There are basically 2 types of ponds being built these days. Then there was the 3rd way (I'll get back to the 3rd shortly).
The fist type of pond is a hole in the ground with strait walls and only rocks around the border of the pond.
Hill Country Water Gardens
If you go to Hill Country Water Garden in Cedar Park Texas and tour their property, you will see this style replicated all over the yard. HCWG is a beautiful store and it is always fun to take the tour. I visit it weekly and buy hundreds of fish a year as well as plants. Their staff is really cool and fun to work with. It all about your style, if you like the mortared look and unnatural look of this type of pond. It's not my style but we can build them far less than what you will pay at HCWG. Our designs are worth every penny and we often refund the price of the design back into the pond we build. HCWG also uses UV lights as well as bead filters, I don't think they are needed. We try and replicate nature to achieve the ultimate pond eco system. Hill Country Water Gardens pond liners are exposed for the most part and this will lead to the liner cracking before it's time. I don't really use the pond products they use, they are over priced and under powered and difficult to work with ( as far as maintenance )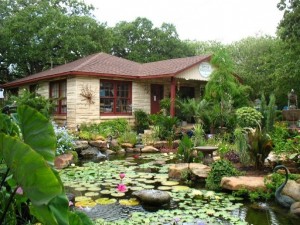 Then there is the 2nd type of pond. Its a huge nationwide company and you won't get anyone from the company what you will get is a CAC ( certified aquascape contractor). Aquascape ponds can be gorgeous but what you won't see is all the hidden costs. Such as cleaning the pond– it is the worst to clean because of the over use of gravel. I also run a full service pond cleaning company and aquascape ponds average $300.00 to $400.00 more expensive to clean. If you choose to use one of aquascapes CAC's with in 75 miles of Austin you will find one.
Texas Ponds and Water Features
Texas ponds is the second installer of ponds.  Although Texas ponds is more natural in a sense The price is unnatural and there is a reason for it. They have to use 100% aquascape products and they are pricey. So really watch the products they install and make sure they are the right ones. The ponds and pondless water features buy aquascape can be manipulated and changed  to save you possibly 1000's of dollars. Aquascape style of pond is the tier method , that is where you shelve the pond to different levels to accommodate different types of plants.  This type of pond will have rock everywhere and then more rock on top of that.  Here is an example of what you might get.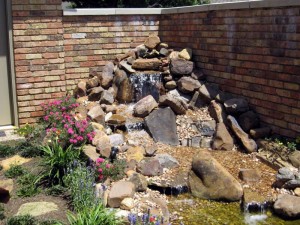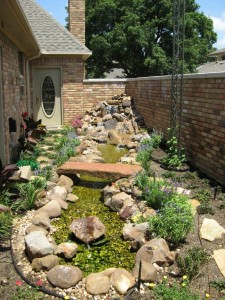 All that rock makes it look so natural , i would love to pay close to $20,000.00 NOT. And if you are using aquascape bacteria and barley then you are getting it at half strength. I've got the good stuff………..  for that same $20,000.00 they could of had some thing like this but smaller of course.
As of this blog we are 80% finished with this project.
Lets get to the 3rd way..
        Hello, I'm Scott aka Mr.Waterfalls and we have a style of both styles. We prefer the total natural way of building ponds or the new pondless water features and rain harvesting. The first thing you need to build a pond is Love and I'm burning with a passion for ponds and all aspects of them.  We do use 100% aquascpae biofalls and skimmers and some of the pumps that's it. Everything else is my own product. I do love the bio falls and skimmers over savio and the other knock offs. We also use the tier method but we only rock the walls and gravel the river and top shelf only with a few characters on the bottom for depth viewing. We are a family owned business and ponds is what we do. We are around 20% less expensive than the top two companies above, and twice as creative. You will get more bang for your buck or more splash for your cash. We do them both if you were lucky enough to find this blog and your in the Austin and surrounding areas and need a pond or pondless water feature you finally found what your looking for. Look through this website and visit us on youtube Goproponds. If your budget is $3000.00 or a $100,000.00 we will give you exactly what you want. We are worth the wait.  You will be blown away.  Email me for serious inquires austinpondrx@yahoo.com
 512-627-0778
Tweet