Hello, I'm Scott Martin the owner of Go Pro Ponds a division of Mr. Waterfalls . We have recently added new services. We now services ponds, pond-less waterfalls and the repairing of water features. We have been landscaping business for almost 20 years and since 2007 we have dedicated our time to understanding, repairing and treating water features.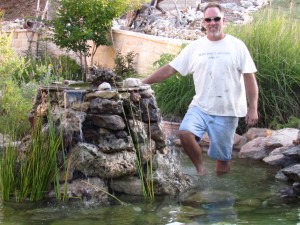 We are very talented at what we do and our creativity and pricing is what is making us one of Austin's top pond installers. We do offer local consultations as well as long distance consultations. We are not a free service but we will refund the consultation fee back into the water feature if our services are excepted. I am the owner, designer, installer, machine operator, secretary, website designer and advertiser. We do not have a store front property and for that reason we are able to return the savings to you. If we had a store front property then we would have to charge double like other companies to cover the cost of the property and employee overhead. We can save you money on small and large projects. Visit our pond pricing page for more details. In some installations we have saved the customer close to $40,000.00 and other a few $1000.00. I guarantee you will get way more than you expected for a lot less. We will beat the rates of Austin's largest competitors of mine. There is nobody else that has studied, built and maintained more ponds than I have. We almost have a patent on a power producing water feature. It powers the pump for the water feature and will charge your battery bank so your electric bill will be free, in some cases you will get paid from the city for the extra electricity you put back on the grid to have a water feature. These are great for off grid living along with the rain harvester.
We have added something that no other pond company provides. We film all our pond builds, cleanings and repairs with the Go Pro Hero.

That's why we refer to our filming as GoProPonds