I'm sorry I have to write an article on this subject. But if you've been ripped off on landscaping in the Austin Texas Areas, then there is a good chance it might have been Kevin Ellner. Kevin Ellner to this day has over a $100,000.00 in liens on him. You don't have to believe me you can google this your self— Google Kevin Ellner . To this day we have rebuilt 2 of his water features. Kevin Ellner will collect your money and will maybe finish the job, the finished job is not professional. Kevin is so unprofessional he makes up a new company every year to hide his true identity. Scam Artist not a landscape artist. Here are some of the new company names to look out for.
1. Prestige Landscape Services
2. Big Star Ventures
3. EcoDesign Landscape
4. Centex Gardening
5. THIS IS HIS NEWEST COMPANY Pro Landscapes
He will be found mostly on criagslist, That is where alot of BS companies will hide. This is one of his newest adds on criagslist. The pictures are not his and this is not the work he does. Its also funny, i'm sorry I mean sad. you will see on his craigslist add — he states in big bold red letters
YOU DON'T PAY UNTIL YOUR
PROJECT IS STARTED!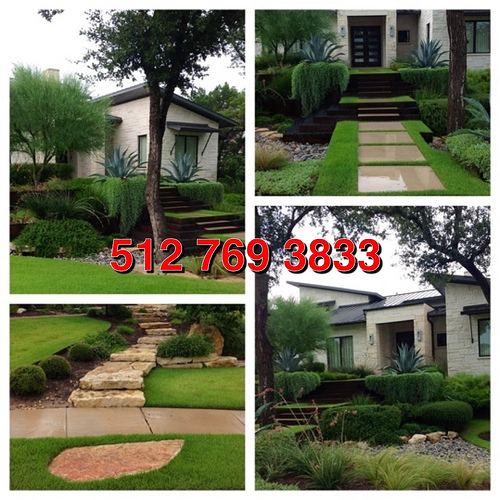 This is not his work
—–   Every year he has a new number. You have been warned
Lets take this craigslist article and break it down..
this add on craigslist is not mine but pro landscapes all his writing will be italic and my writing will be bold
We are a full service company, a completely dedicated-to-project team; meaning when we start a project and take it to completion and dedicate the time to your needs and property. We don't juggle projects – we take each on individually and pay attention to the greatest of detail, leaving you completely satisfied and with a sense of pride and showmanship.
These are pictures of a project of Kevin Ellner's work at the time the company was Centex Gardening.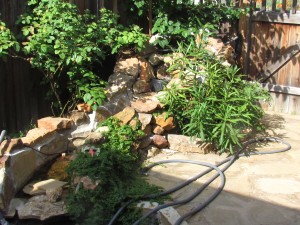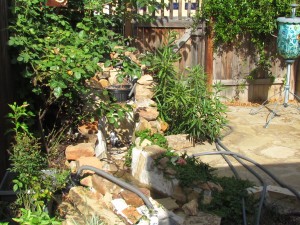 He actually tried to come out and fix his work and screwed it up worse.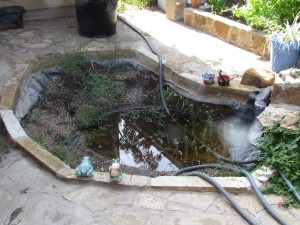 Using only high-end products and service technique,  HIGH END PRODUCTS WERE NOT USE ON THIS PROJECT, MOST EVERYTHING WAS BOUGHT AT HOME DEPOT .We treat your property as a canvas – thinking ahead to not only please the eye for the immediate need, but for 10 years in the future. WE  REBUILT THIS PROJECT 3 YEARS LATER BUT IT HASN'T WORKED SINCE IT WAS BUILT Our goal is short-term satisfaction and long-term love. Through our expertise in art, true craftsmanship in design and genuine love for what we do, We will transform your idea into an amazing living environment.  THIS IS A LOAD OF CRAP I'VE SEEN SOME BAD WATER FEATURES BUT THIS ONE TOOK THE CAKE.
We apply creativity to every step of the process. We take YOUR vision and ideas and combine them with our knowledge, expertise and artistry to create something truly unique. THIS PROJECT TOOK KEVIN 9 MONTHS TO COMPLETE AND IT ONLY TOOK US A WEEK TO DECONSTRUCT AND REBUILD IT.
This is and article found on Ripoff Report and this is only 1 of many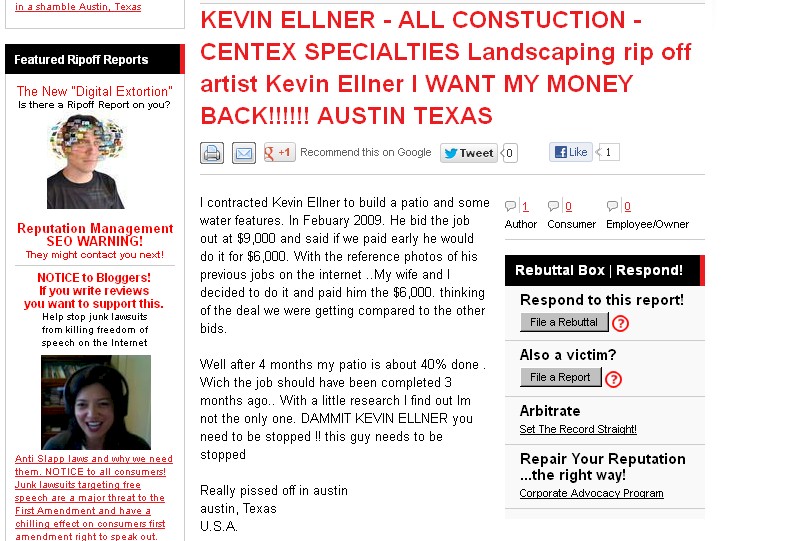 This is the testimony I received after fixing Kevin's so called landscape.
Hello – I would like to tell a story 5 years ago my wife and I  bought a house in Mueller. Its been a dream of  ours to build a Japanese garden with a waterfall and fish pond in the back yard so when we bought the house we started to shop around for a pond installer to do the work. We got 5 bids from pond and landscape companies in the Austin area.We decided to go with a gentleman named Kevin Ellner at the time his company name was Centex gardening and he was the one we picked because his price was good and he seemed like the man for the job … Well I was wrong he started on my pond 2/1/09 and said it would take 1-1/2 weeks to complete the job. It did not get finished until 11/1/09… 9 months later and was a nightmare from the start. When it was done the pond was losing water at a rapid rate and did not function properly… I paid 6,000.00 for the job and got ripped off .The reason I went with Centex was because he gave me good reference's online and a song and dance that If I paid 6,000.00 for it now in full  he would do the job which was bid at 9,000.00 giving me a deal on it because it was slow for him and he could do it before he got real busy in the spring and summer months..Well to make a long story short it was a nightmare and the pond never worked I never saw Kevin lift a finger on the job it seemed like all I saw were workers,  different ones every time, like he picked them up at Home Depot or something like that.. I sued him and won however that doesn't mean much in the state of Texas put a lien on him that will last 10 years and I will issue another when the ten years is up.. My pond  didn't work for 4 years just a ugly hole in the ground in my small back yard.. Which was pretty depressing to look at every time we went back there.Well it took a good three years for my wife and I to get re-motivated financially and mentally to start the process all over again, to find a installer to do the work and make are garden and pond work again. So I started looking in mid July of 2012 to find a installer I had six bids on the job and after extensive research with references I picked one who I thought would do the best job, he wasn't the cheapest or the most expensive but he was the one who I felt most comfortable going with, because I was real careful on who I chose this time… He seemed more passionate about his work  and gave me a ton of references to call not just look at online (like I did with CENTEX the first company I went with which probably put on good references himself) and he had filmed previous jobs, the whole thing and you could see the whole job, he was there for all jobs he did from beginning to the end….I decided to go with SCOTT MARTIN WITH GOPROPONDS.COM also known as MR WATERFALL.. He told me the job would be done in 4/5 days it was done in 5 days WATER PLANTS AND FISH INSTALLED and it is amazing!!!!! My wife and I can go chill in our Japanese garden now and its BEAUTIFUL!!!!! it is what I was looking for 5 years ago..If you are looking to get a pond in your backyard look no further SCOTT MARTIN IS YOUR MAN!! If you ever want to talk or see my pond call Scott and he will give you my phone # to set up a time to come see it.The lesson I learned throughout this whole ordeal was don't look at the references online or testimonial's make sure you get phone references and real people to talk with and look no further than SCOTT MARTIN!!!
THANK YOU ERIK
These are pictures of our finish project for this customer.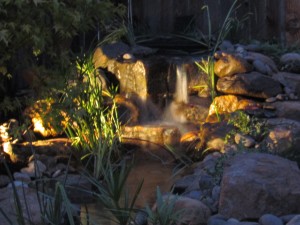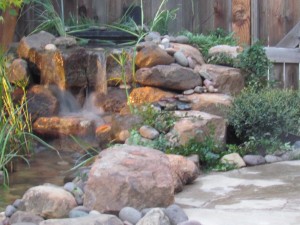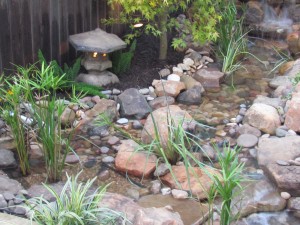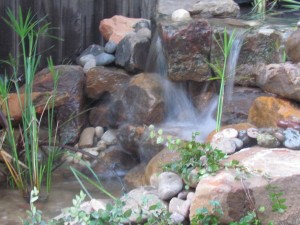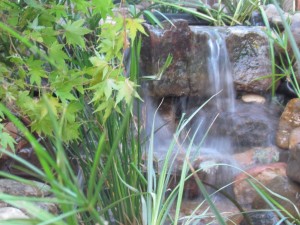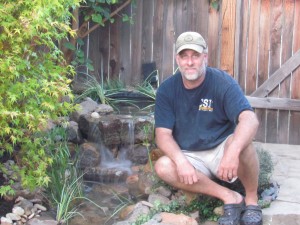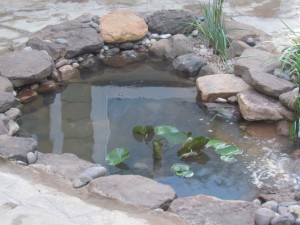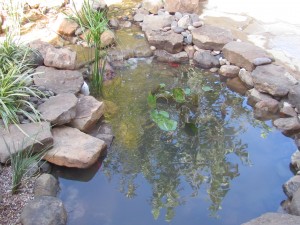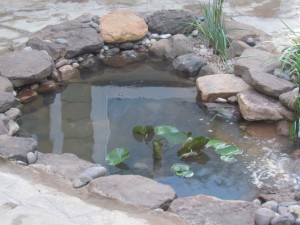 This the video of our job from start to finish. It did not take months only days, we use only top end pond products and quality rock.
If we can prevent just one more person from being ripped off from this article then I succeeded. If this article finds you late we can rebuild what Kevin Ellner has screwed up.
Tweet