If you have had a pond installed by a company or you have decided to take this project on yourself you will most likely encounter the green water.
This is a picture of a pond with green water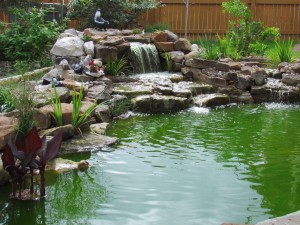 Before Video .wmv File  Click here —>  Green murky pond water before
After Video .wmv File  Click here —>  After Austin's Pond Doctor
There is a reason the pond turned this color. I will name a few but not all because i am in the business of cleaning and treating ponds for a living. The first reason and the biggest reason is nitrates in the water. Nitrates come from debris, fish waste, excess fish food, leaves ect. And the treatment for this is bacteria, beneficial bacteria and lots of them.  Secondly its the plants in your pond, believe it or not plants is one of the main reason ponds are crystal clear. Once the plants in this pond are mature and the roots are soaking up the nitrates the algae has no choice but to retreat. All the ponds we now build come with a bog to help accommodate rapid nitrate absorption.
 We are Austin's Pond Doctor but we do travel. This job was located in San Antonio Texas. We have repaired, serviced and install many ponds and water features all around the central Texas areas
Watch more pond cleaning videos at
Tweet