This page is not to show what I've done but to show you what I can do. If you see something in a book or on the internet or even a garden show that you just have to have. We can create it or real similar to it. There will never be any 2 water features exactly the same. Rocks and boulders don't duplicate themselves. For each picture below I will include a real close ballpark price and details on what your landscape needs to be to accept that water feature. Some of these pictures ARE NOT MINE AND ARE USED FOR PRICING AND DESCRIPTION ONLY……
A special note to everyone that created these wonderful and beautiful ponds and rivers. 2 Thumbs up you have been Mr.Waterfalls approved and are worthy of creating great things.
ALL PONDLESS WATERFALLS CAN BE UPGRADED TO A KOI OR GOLD FISH POND.
First on the list of pondless or ponds you can buy is this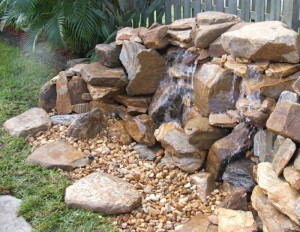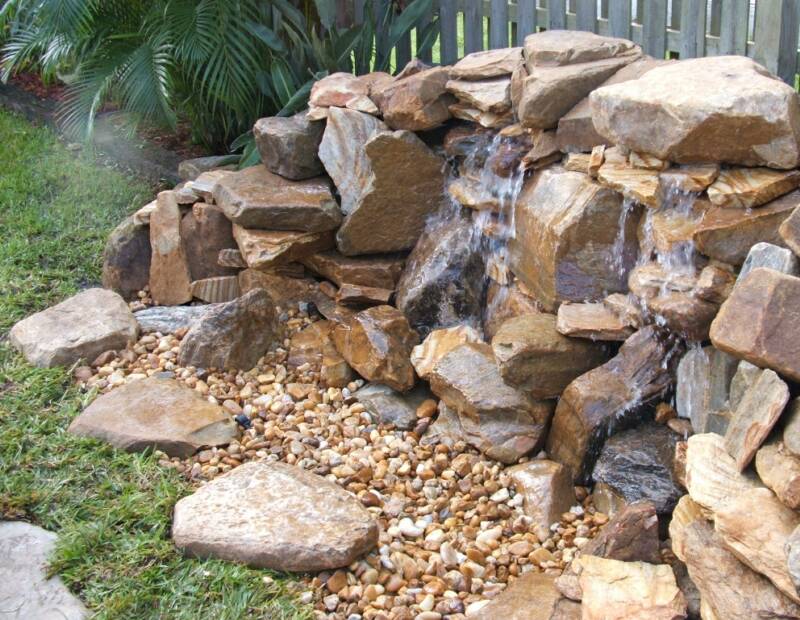 Approx price for this is $4500.00  which includes the demolition and rebuild.  There is no price – this is not acceptable and I can't believe a company made this and charged a customer for it. If you are wanting to hire a company that just stacks rocks then you just found the wrong website. Here is a website you can go to for water features  CLICK HERE We have already had to fix water features that weren't even a year old from this company. Not all landscapers are pond builders, just because someone has been in the landscape business for years or decades does not make them a pond builder. A pond builder is not just a landscaper but a water artist. So remember that rule Landscapers are not Pond builders
This is what we can do for you.
1. This water feature needs to have at least a 4 foot hill that we can cut into or we can build it smaller with less of a hill. This is a pondless water fall but could easily be turned into a gorgeous pond. The waterfalls cascade into a shallow water stream that flows towards the smaller of the falls then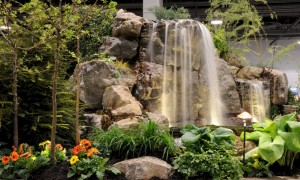 turns down stream under a bridge meandering down a small creek into the disappearing water tank.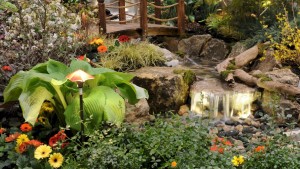 So for this water feature the price is around $25,000. with landscape included. The river could be made longer and it could be turned into a pond.
2.This pond is a 21 x 15 with the water falls on the edge of the pond. Can be upgraded with a small stream. Its approx. 3 feet deep with different level pond shelves.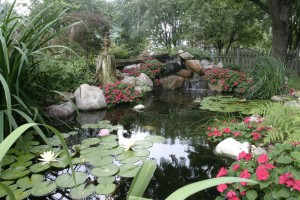 Approx. price for this water feature is around $14000.00 with landscape included.
3. This water feature is a koi pond plus mini river and upper bog area with a small waterfall at the top and numerous waterfalls leading to the 20x 20 pond. You do not have to have a hill in your yard for this one, everything is built up from the digging of the pond. Larger equipment is need to move these size rocks. This pond is a show stopper and everyone will talk about this one.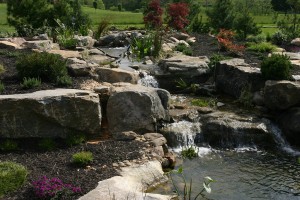 approx price for this piece of awesomeness is around $30,000.00 this could be pondless for the price of $14,000.00 or we can make a smaller pond. Landscape included
4. This pond is a 3 part mini pond, deepest depth 2.5 feet with a mini stream and a low water bog at the far end. Water flows from the corner and enters in the center with small cascading waterfall. the patio can be made from brick or flagstone.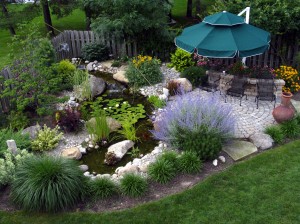 approx price for this mini water garden is around $8000.00 add the patio and landscape for a price tag of only $10,000.00
5. This small pond with a 20 stream and small waterfall at the top is sure to please.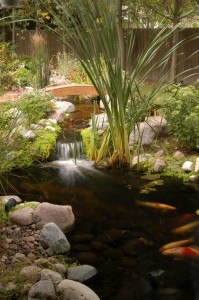 Approx price for this pond and stream combo is around $12,500.00 with bridge and landscape and outdoor lighting included.
6.This is a 2 part pond and a 2 part waterfall and bog with a bridge.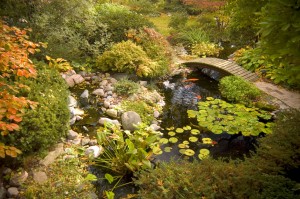 approx. price for this slice of heaven is around $24,000 with landscape and lighting/
7. Don't have much room, you can still have a small water garden with a deck approx 2000 gallons up to 3 feet deep. Good for koi or goldfish or both.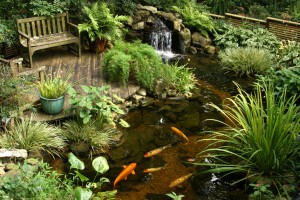 Approx. price for this pond is around $10,000.00 landscape included.
8.  This is a pondless water feature, not much to say about this one but these type of water features are very inexpensive. Fully landscaped this recirculating water feature is sure to give you the sounds of crashing water without the crashing of your check book.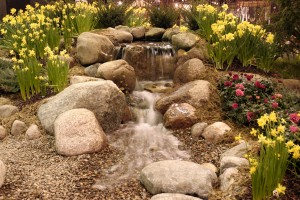 OR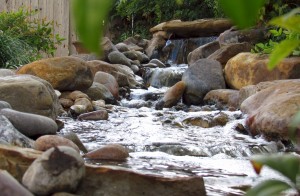 Approx. price of this pondless waterfalls is around $3500.00  – $4000.00 landscaped
9.This is also a pondless waterfall same as #8 but quite different. This a a multi-split waterfall and much larger rocks were used for this one. Waterfalls pushing 10000 gallons an hour makes this a mini Niagara fall. All the water is caught in the under ground basin at the end of the falls and holds about 300 gallons of water making the need to refill very seldom, this could also be used in rain harvesting as well. We can build basins to hold 100 gallons or 10,000 gallons – all tied into your gutter system.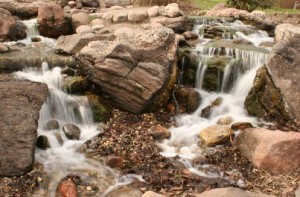 Approx. price for this mean machine is around $8000.00
10.This is a pondless water garden great for an entertaining area. With a top waterfall height of 3 feet above ground level, cascading down thru a winding stream about 20 feet. This one is sure to please.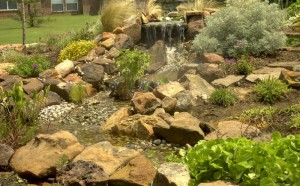 Approx. price fully landscaped is around $8000.00 can be upgraded to have a koi pond.
11. This is a pondless waterfall built with larger stones, a small river and landscape.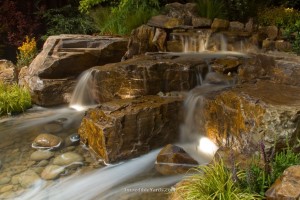 approx. price for this one ( Water does not actually look like this in real life, just in the picture) $8000.00 landscaped and lighting.
12.This is a pondless waterfall with landscaping, 3 levels of cascading waterfalls over a 10 foot stream and landscaped.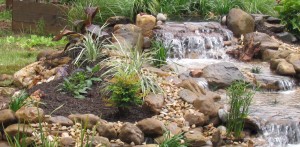 Approx. price is $4500.00 landscaped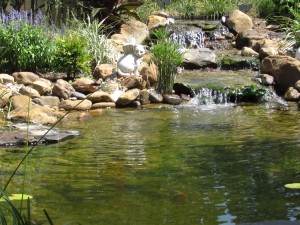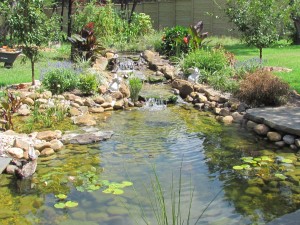 can be upgraded to a 3000 gallon pond for $12,000.00 landscaped.
13. This is a koi pond with cascading waterfalls and a stream flowing into the pond. The bridge and walkway are additional accessories to complete this back yard getaway. Only a flat yard is need to create this water garden. This water feature  can be pondless or a pond either would be a great addition to a back or front yard.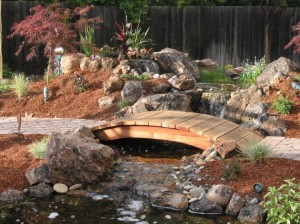 Approx. price for this pond is around $17000,00 but can be made pondless for around $7000.00. includes landscape and lighting.
14. This is a pondless waterfall and stream. This pondless system is great for a front entrance or a back yard. this pondless water garden needs a small slope to create the cascading waterfalls.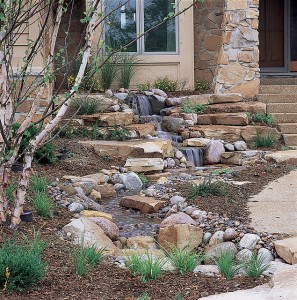 OR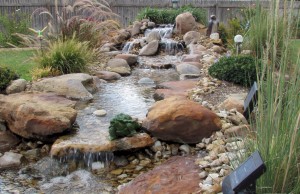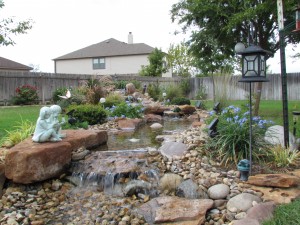 approx. price for this pondless river is between $7500.00 and $8500.00 with landscape included.
15.This is a pondless waterfall with a 14 foot winding stream. this water feature will also be fully landscaped and could have outdoor lighting. Only a flat yard is required for this small beauty.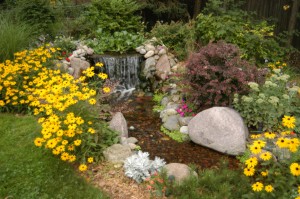 Approx. price is around $4000.00 for everything you see here.
16.This is a pondless river with numerous cascading waterfalls, at the top the main waterfall  is split into a double waterfall. Adding extra things like a broken log completes the look to this magically flowing river. Only a small slope is needed to create this or the lawn can be built up to accommodate the feature. This pondless river would be most optimal in a wooded backyard.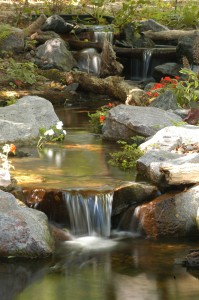 Approx. price for what you see in this photo is around $8500.00 with slope on property and upto $10000.00 if slope is needed.
17.  This is a koi pond but can be made pondless. A slope is needed to create this natural cascading river. Larger rocks will need to be used in the making of this one, and with a 15×15 pond makes this the ultimate getaway.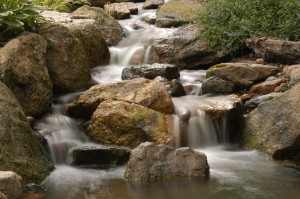 Approx. price for the pond and river is around $25000.00 and just for a pondless river of this magnitude will cost around $10,000.00
18. This river leads down a 40 foot path, it also built on a mild slope that enters into a pond at the bottom. This feature is great if your yard is backed up to a forest edge. Fully landscaped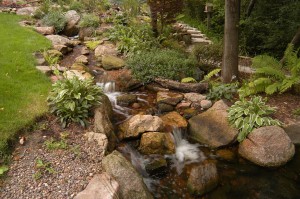 approx. price for this running river is around $9500.00 pondless or add the pond for an additional price depending on size pond you desire. Minimum pond size is at least 5000 gallons to handle receding water flow.
And finally #20. This 35 foot winding stream with plant bog could be pondless. There doesn't have to be a slope for this one we will create the slope. this stream is fully landscaped and outdoor lighting.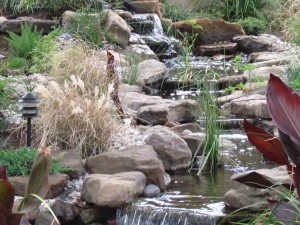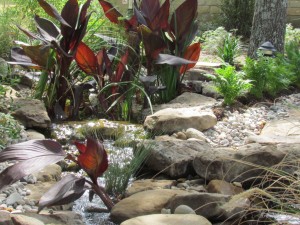 Approx price for this is around $7000.00 plus bog and landscape plants. This can also be turned into a pond instead of pondless for $13,000 depending on the size of the pond and accessories.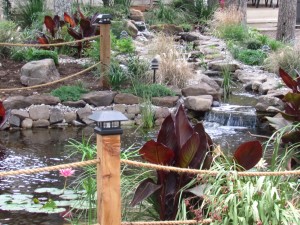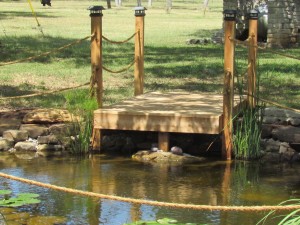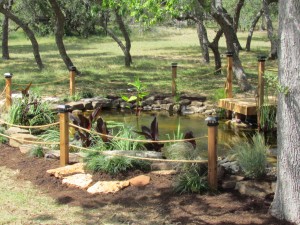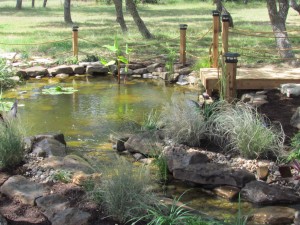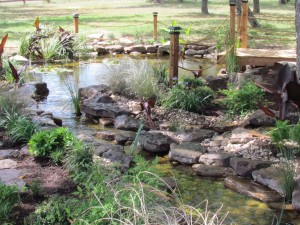 Don't think that this is all that can be created. These are just examples of what can be created in your yard with your budget. Some of the photos are mine and some are found on the internet. I by no means take credit for everything you see on this post. All text and price ranges are my own based on how many water features i have already created. Your budget is what will dictate what water feature you can have but rest assure you can have an awesome water feature for as low as $3500.00 for pondless ( fully landscaped)and $4500.00 for a small water garden with fish and lighting( Fully landscaped) As of 7-20-2012 our price ranges for pondless, rivers or ponds start at $3500.00 and have not exceeded $37,000.00. The more you can spend the bigger and better the water feature can become. Don't feel you have to spend $30,000.00 to have an awesome water feature , some of my favorite water gardens are under $5000.00
For The most part my price page will explain how the pricing is broke down into categories.
Thanks for viewing
Mr.Waterfalls
Tweet