We got a call for an emergency pond pump issue. When we arrived the fish needed oxygen and the pond needed to be cleaned. We upgraded the aquatic plants, power washed the whole interior of the pond. We replaced the broken pump and started it back up.
Lets watch the video and I'll show you the final product…..
Customer Testimonial:
I came home from a long vacation and found my pond totally stagnant. I called my 'pool guy' and he told me he was on vacation and couldn't help me and that I should stick a hose in the pipes to blow out any clogs. I did this and nothing happened. Called him again but no one called back. I knew my fish would die soon without oxygen and called several places for help. Scott answered my call that same day (only one to call back of many calls made that day) and said that he was busy but would come to the house at the end of his work day to make sure my fish didn't die. He arrived timely and put in temporary oxygen for the fish and diagnosed the problem. We discussed our options and he gave me a firm price. The next day he fixed the problem, did an amazing job cleaning the pond and added beautiful flowers.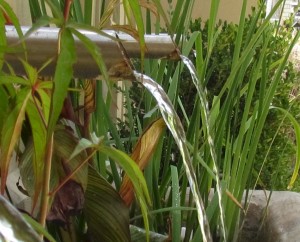 His price was fair and there were no surprises. His work far exceeded my expectations . I have never given a testimonial for a company but have done so now as  his work was beyond my expectations  and I feel that kudos are certainly warranted.
Thanks … Jane  Allen, Lakeway, TX
Tweet